If you aren't yet using Epic! with your K-6 students, you should run, don't walk, to your computer and visit
getepic.com
to sign up for a FREE (that's right, I said "free!") educator account! Epic! provides kids with an amazing library of books, featuring both narrative and informative texts, and for those of you who haven't discovered yet ...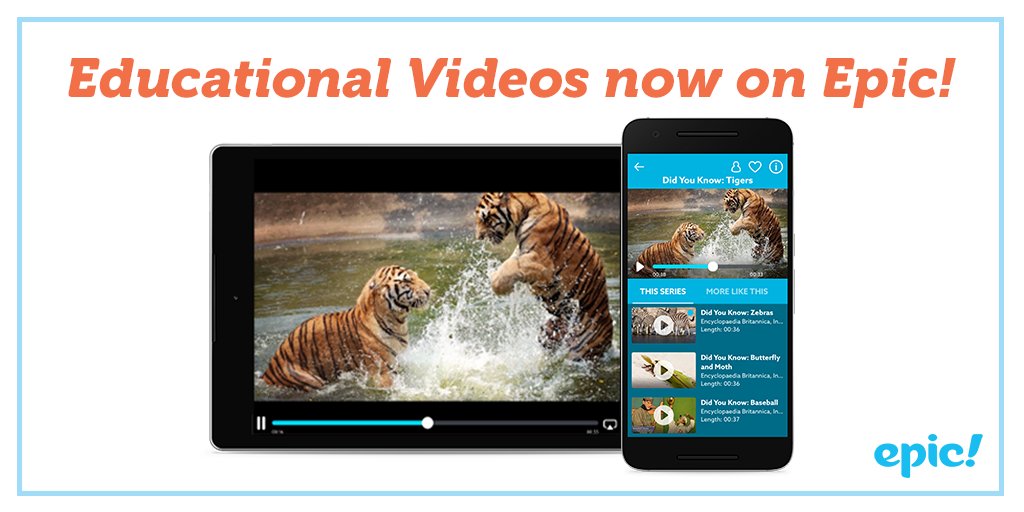 Epic! now also includes educational videos with its content. When used purposefully, this provides another way for students to research a topic or gain further insight into a story they have read. Epic! is great for all ages as it provides audio books, as well as books that students need to read themselves. It works across multiple platforms, so whether you have iPads, Android devices, Chromebooks or laptops, your students will have access to TONS of free books. It's awesome!
If you don't have an account set up,
CLICK HERE
to view slides created by
Sara Malchow
with screenshots and instructions. Once you create a free teacher account, you can add student profiles so they can create bookshelves that are accessible each time they logon to Epic!
For those of you already using Epic!, I hope you'll check out the videos and share how you're using Epic! for purposeful learning and discovery in your classrooms. Also, I hope you might consider joining this fun Collaborative Padlet project.
This is such a fantastic idea, and such a great way to connect your students with other classrooms! Teachers have selected books for May that are available on Epic! Students read the story, then scan the QR code to access a collaborative Padlet where they can share their "take aways" from that particular story. Because the Padlet is collaborative, they'll also be able to see other students' responses. So cool! Click the image above for more info and to read the full post on the
Reflections on Teaching, Learning & Technology blog.